A National Mall 3rd Century Commission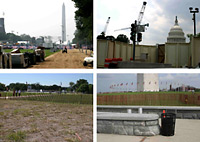 THE NEED: The National Mall's symbolic meaning, beauty, and function as a national gathering place are threatened by haphazard growth and poor maintenance. The Mall lacks visitor amenities including places to sit and rest, quality food service, restrooms, public transportation to and around its vast area, and convenient parking. Fragmented management and Congressional oversight, uncoordinated security, and conflicting philosophies of public use prevent unified planning. There is no up-to-date master plan.

A commission is needed with the ultimate authority to unify management and create a comprehensive vision for an expanded National Mall in the 21st century—the 3rd Century Mall.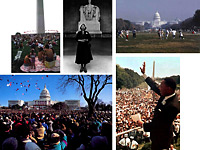 THE VISION: In its 3rd Century, the National Mall's historic landscape can enlarge its role as grand stage for democracy where Americans learn, meet, celebrate achievements, play, and seek redress of grievances in a national spotlight. Under unified management and with an updated master plan, it can be expanded onto contiguous and other federal lands and incorporate abundant frontage on the Potomac River.

The expanded 3rd Century Mall can create inviting new public spaces, strengthen the Mall's connections with the Washington metropolitan community and surrounding neighborhoods, and make room for future museums, monuments, and cultural and recreational activities, while extending and reinforcing the Mall's symbolic narrative.

More than ever, the 3rd Century Mall can showcase American founding ideals, history, art and culture, technology, and sustainable landscaping. It can fulfill its intended role as the people's place by continuing to embody, as it did with civil rights and other public events great and small in the twentieth century, the centrality of the people in America's ever-evolving democracy.


WHAT CONGRESS SHOULD DO: Create an independent 3rd Century Commission
to define the Mall including federal lands that could be part of a Mall expansion
to consolidate and coordinate security planning for the Mall as a whole
to unify management under a single entity and provide for meaningful public involvement
to create a comprehensive vision and plan for the Mall's 3rd century and a means of implementation
The 3rd Century Commission should be composed of nationally prominent, respected cultural leaders of vision and independence drawn from key fields including landscape design, American history, historic preservation, art, education, ecology, and other disciplines involved in creating vibrant public spaces. Congress should choose members in consultation with representatives of the DC Government, the Congressional committees with direct oversight over the Mall, and the citizen groups and members of the public who want to take an active role in National Mall matters. The Commission should consult with the federal agencies that manage the Mall's day to day operations and with the public.

Congress should impose a moratorium on site selection or design development of any proposed museum, memorial, visitor center, or permanent security projects until the Commission reports to Congress on its findings within one year.