The National Mall 3rd Century Initiative was launched in 2004 by the National Coalition to Save Our Mall to promote short-term and comprehensive long-term planning for the Mall's continued vitality as a great landscape symbol of our country's founding ideals and a stage for our evolving democracy
NEW in 2012: The National Coalition to Save Our Mall will exhibit our visions for the 3rd Century Mall at the Annual Meeting of the American Institute of Architects in Washington, DC as well as other venues.
NEW: In November 2009, the National Coalition to Save Our Mall published
"Renewing American Democracy on the
3rd Century Mall: A Vision for the National Mall"

NEW: 2008: In December 2008, the National Coalition to Save Our Mall published "Rethinking The National Mall," a report and call to action that is the culmination of the past 4 years of work on the 3rd Century Initiative.
Read that report and our 2004 and 2006
reports at the Coalition's main website.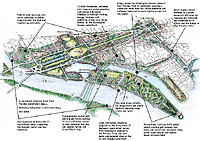 What does the Mall need?


Watch the fast-paced, informative video The Future of The National Mall. Click here to go to the video.

You will learn the Mall's history, its problems and needs, and our proposed solutions for a 3rd Century Mall. See what excited the enthusiastic support of The Washington Post and The Weekly Standard. Who else has seen it? Congressional members and staff, the media, National Park Service officials, Smithsonian officials and staff, DC parks and planning staff, and citizen groups in the DC area.


As a public service, the Coalition has digitized the rare, out-of-print McMillan Commission Report of 1902 and maps that are the conceptual underpinnings of today's National Mall and Washington, D.C.'s park system.
Click here to read it
Click here to learn more about the Mall's history, historic plans, and cultural significance.